Beef
All entrees are served with our basmati saffron rice, or grilled vegetables or French fries. You may substitute plain rice with cherry rice or dill-lima bean rice for $2.50 extra. We offer half rice and half salad or grilled vegetables, or french fries for $1.99 extra.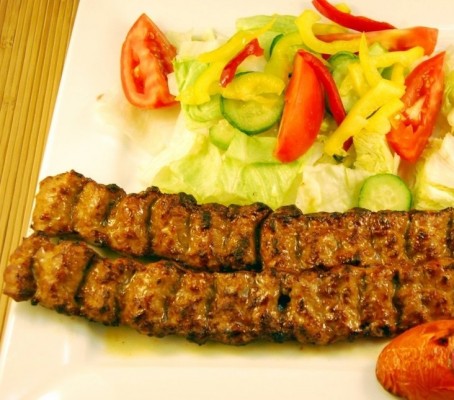 Beef Koobideh Kabob
Ground beef skewered and char-broiled.
Beef Barg
Filet mignon, marinated, skewered and char-broiled.

Beef Soltani
Combination of barg and koobideh.
Beef Shish Kabob
Chunks of filet mignon, marinated and skewered with bell peppers and onions and char-broiled.
Filet Mignon Kabob Combination
Combination of skewered beef tenderloin and ground beef cooked over open fire.
Beef Special Kabob
Koobideh-boneless chicken kabob, shish kabob.