Appetizers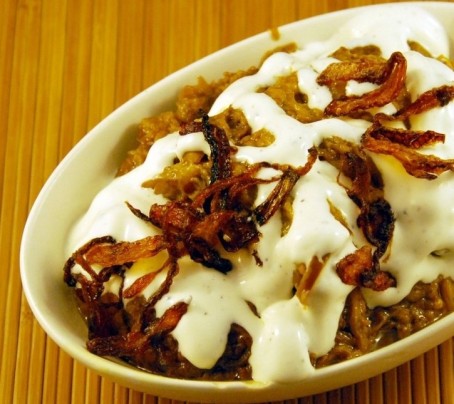 Mediterranean Eggplant
Fried eggplant with tomato, garlic and onion sauce topped with feta cheese.
Hummus
Chick peas and tahina, and pita bread.

Sabzineh
Fresh herbs, fresh feta cheese walnuts, and olives.
Zeitoon Parvardeh
Green olives with walnuts and pomegranate.
Green Olives in Olive Oil, Garlic and Herb

Kashk-o-Bademjan
Eggplant, onion, herbs and spices with cream sauce and mint.
Dolmeh
Vegetarian stuffed grape leaves, rice, seasoning and herbs.
Mast-o-Khiar
Yogurt and cucumber dip with herbs and spices topped with walnuts and raisins.
Mast-o-Mosir
Yogurt and shallots.
Borani
Steamed spinach mixed with yogurt and herbs.
Torshi
Pickled vegetables.
Pickles
Mediterranean pickles.
Garlic Torshi
Garlic cloves aged over seven years in wine vinegar.

Tah-Deeg
Crunchy rice with stew. ($2 extra charge if stew on the side.)
Combo Appetizer
Kashk-o-Badamjan, Sabzineh, pickles, Shirazi salad, yogurt cucumber and hummus.
Basket of Fresh Baked Bread